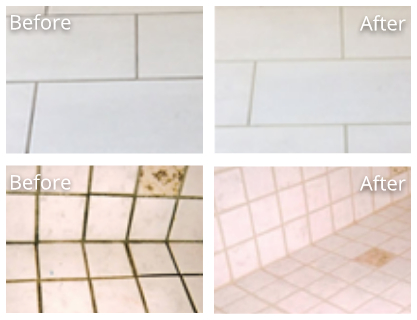 Do you have stained grout? Is your tile and grout is looking dull and discolored? MARBLELIFE®'s GROUTLIFE® COLORSeal process will make you smile again!  

COLORSeal can restore a beautiful clean appearance to any sanded grout surface, while sealing your grout to prevent future discoloration.  

The restoration process begins with cleaning. First, an appropriate tile and grout cleaner is applied to the tile floor, and then grout lines and tile are agitated and scrubbed clean. And the soiled dirt that has been broken up and emulsified is extracted using a truck-mounted or portable vacuum system.  

The COLORSeal is then brushed into your grout lines, sealing in color and preventing future stains from penetrating the grout.  

Once cleaned and restored MARBLELIFE® will guide you towards floor-safe cleaners and care products to maintain your surface appearance for years to come.  

Are you ready to bring your surfaces back to life?


Learn More about COLORSeal
Jim & I are extremely satisfied with the quality of work of your company. Phillip and Josh were hard-working, professional and carrying! Thank you again for a GREAT job. Betty & Jim Smeenge
Betty
5
We have about 800 sq feet of marbel flooring that we walk and play on. We have lived here in Pelican Bay, Daytona Beach twenty years with loads of company and visitors. We have two young grandsons, 8 & 10 who love to slide and play on the marbel. After twenty years of motorcycle boots and ten years of playing the marbel was a mess. Marblelife with owner Michael brought the marble back to life. It took two days of busywork and the marble looked great. My wife loves it and she especially loves Marblelife. There was no cleanup for her once the job was complete. I really enjoyed the professional Marblelife personnel. The made a hard job look easy. And no mess to clean up.
Lyle
5
Mike worked very hard and it shows! The floors are beautiful, perfectly polished and glowing with shine. Thank you for your service and professionalism.
Connie
5
The job was excellent. My wife said your staff was very professional.
Tony
5
It was a very good experience. Phil and Josh did a great job, were incredibly pleasant and professional and went way overboard to please me and my husband. I am very happy with the great job they did.
Nancy
5
Excellent. I have already recommended you to a friend. She will call you. G Garcia
G.
5
I am not an easy customer to please when I have people working in my home. But I have to tell you that the two men who were here working on my travertine floor were the nicest people who I have ever had do any work in my home. The floor looks great. They did a fabulous job cleaning the travertine and sealing the grout with a new color. What a tedious job! I use your products and now will continue to use your services. Thank you so much!
Randye
5
Mike was very courteous and efficient. He did an excellent job on our vanities..they look like new! I would highly recommend Marblelife to any of my friends and acquaintences.
Patty
5
Great service and the work was very nice. My bathroom & bedroom look great! Thank you!
Kay
5
Pleased. The guys did a great job and did not leave a mess.
Gail
4
very professional. no wasted time
Frank
5
Wow!!!! The job done on my exotic granite island is absolutely incredible, the luster and beautiful shine that has been restored is indescribable. I recommend this company without hesitation or reserve, the knowledge of the product from Mike was very comforting, thank you to Marblelife for making me feel that my granite is as beautiful as when I first had it put in 11 years ago!!!
Star
5
Excellent company
Daniel
5
Very professional and done in the timeframe you had originally stated and the outcome was very good
Karen
5
Very polite and courteous staff. Our floors and counter tops turned out amazing!
Laura
5
Estimate was done quickly after initial contact. Service was scheduled quickly after estimate and acceptance. Technicians were great! I am totally pleased with my results - grout looks like it did when the house was completed 10 years ago. And, this was the first time it had ever been cleaned.
Carol
5
They were very professional, and well versed in the care of natural stone. The prices quoted were fair in comparisons to others. When they came to do the work they were very professional and detailed in the care of the floor. I was very pleased and would gladly have them back again
Theresa
5
Sales person very knowledgeable. Service well experienced, kind and considerate. Took care NOT to damage walls.
Donna
5
Workers showed up on time. They did an excellent job, and were very careful not to leave a mess. I will recommend them, and use them again.
William
5
The guys who came out to our house did a wonderful job of cleaning our shower and the bath's marble floors.
James
5
I am very impressed with this company, they were at my home within a day to give me an estimate and in 4 days the job was completed. The put a lot of time in protecting my floors and surrounding areas. They left my kitchen spotless and my 10 year old marble looked like new. The technicians were true professionals and went over and beyond what they were hired to do. They even turned me on to an amazing product for my wood floors and I have used Bona for many years. I am a convert now. I can sum it up by saying they were very professional, courteous and clean. I will make this an annual service. L.Gray
Lacey
5
They called and asked if they could come earlier then scheduled, that suited me perfercly
Dennis
5
What a great company!! Reliable...dependable and very, very nice. I would highly recommend Marblelife of Central Florida. A very well run organized company. Many, many thanks !! My floors and staircase look beautiful.
Teresa
5
Great job, great service! Our Travertine floors look beautiful.
Daniel
5
Very Professional and courteous!
Cambridge Home
5
Professional, timely and experienced.
Roya
5